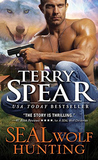 SEAL Wolf Hunting
by
Terry Spear
My rating:
4 of 5 stars
What could be better than a book about Seal Special Forces...maybe one with a wolf shifter who is part of a Seal Special Forces team? Definitely!
SEAL Wolf Hunting
by
Terry Spear
delivers with an action packed romance that you will not want to put down.
Paul Cunningham is home from a tough mission. He is looking for a little down time before the next mission comes calling. Too bad his fellow pack mates have other plans for him. Paul is not thrilled to be part of a bachelor auction despite the worthy cause. Lori Greypaw has had feelings for Paul since they were cubs. When her grandmother wins Paul in the auction, Lori knows her grandmother has more than home improvement on her mind. Will this time together show Paul that staying state-side has its benefits?
Paul is one sexy wolf shifter who is part of a special Seal team comprised of all shifters. He is a born leader who loves helping others and the thrill of the mission. Lori teaches martial arts. She is a loving grand-daughter and helps the pack as much as she can. Nothing like close quarters to add to the sexual tension. Will Lori and Paul give in to their desires? This was another enjoyable read by
Terry Spear
. I look forward to the next one.
View all my reviews