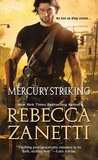 Mercury Striking
by
Rebecca Zanetti
My rating:
5 of 5 stars
I received this book from NetGalley in exchange for an honest review.
Rebecca Zanetti
is one of my favorite authors. She creates compelling, action-packed stories with well-developed characters that will have you on the edge of your seat and crying for more when it ends. Have I mentioned the swoon worthy Jax? He will have you wishing you were his leading lady despite the Post-Apocalyptic setting.
Jax Mercury has always been a fighter: first as a gang member, then as a solider in the military, now as a survivor of the plague, Scorpius. Scorpius has decimated the United States. Technology is down and those who survived the initial outbreak are struggling to stay one step ahead of the plague. Jax has made it his mission to help others. He commands the strong to care for and protect the weak. Lynn Harmony has been working on a cure, but she needs Jax's help. They both have skeletons in their closets and secrets they would like to keep. Can they work together to find the cure before it is too late?
Jax Mercury is a mysterious solider fighting a battle for survival not only for himself but others in his care. He is a fighter who has honed his skills, both on the battlefield and off. Lynn Harmony may be the only hope for mankind's survival if she can find the cure. Working together will be a test of dormancy, determination and trust. I thoroughly enjoyed this read even though at times I was either crying or screaming at the book...like that would make it better.
View all my reviews