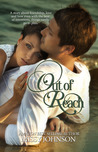 Out of Reach by Missy Johnson
My rating: 4 of 5 stars
My best friend was dying and I was in love with his girl.
This was such a sweet, sad story. Seth and Andy had been best friends since they were young. They were inseparable. Now Andy was dying and wanted to make a few new memories in his last few weeks. How could Seth say no? So that is how they end up on a road trip with Andy's girlfriend, Emily…the girl Seth is in love with.
The story is told mainly through Seth and Emily's viewpoints (with a little bit of Andy thrown in), and it focuses on them trying to keep Andy happy in his last days. The emotions the author wove into her story were amazing. Each character was individual and unique. Andy loved life and wanted to live it to its fullest. He was dying – there was no getting around that – but he tried to always stayed positive rather than just giving up. Seth was the kind of best friend everyone wishes he had. He would have done anything for Andy, and Emily, too. Emily was the best girlfriend a guy could have. She stuck with him through everything, even though she knew it was not going to end well.
Together these characters made for an incredible story. This is a story of love and friendship, life and death, courage, sacrifice, and healing that will stick with you. Though it turned out to be a tearjerker of a story, there were also a lot of fun moments that will have you smiling and laughing right along with the characters.
I received a free copy of this book in exchange for an honest review.
View all my reviews