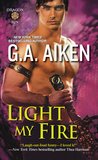 Light My Fire
by
G.A. Aiken
My rating:
5 of 5 stars
I received this from NetGalley in exchange for an honest review.
I love the Pride and Magnus Pack series by
Shelly Laurenston
. When I found out that she also writes as
G.A. Aiken
, I knew I had to give it a try.
Light My Fire
is the seventh book in the Dragon Kin series. After reading this book, I look forward to reading the series from the beginning. If you are looking for a fun read that will have you putting up the Do Not Disturb sign, then this is the book for you.
Elina Shestakova belongs to a tribe of warrior women; too bad she is considered the weakest. Elina is sent on a quest to prove her worth or maybe just to dispose of her. She is sent to assassinate the queen. Celyn the Charming, a dragon, is part of the queen's royal guard. He encounters Elina while on patrol. Celyn finds her amusing...how dare Elina, a puny human, think she can assassinate the queen? He throws her in jail and forgets about her for months. The queen has assigned him to retrieve Elina and accompany her to broker a peace treaty with her tribe. Celyn can't understand why Elina is mad at him when she is the one who was sent to assassinate the queen. Will they be able to work together to secure the peace treaty? Will Celyn's charming personality win Elina's heart before she puts an arrow in his eye?
Elina has been told she is worthless all her life. Elina kills to eat and is an excellent archer, but she is not a blood thirsty warrior like the rest of her tribe. Celyn, while he is charming, would like to prove he has other skills. Between Elina's straight forward attitude and Celyn's incessant questions they make a good team, if they don't kill one another. This story is full of bickering, witty banter, action and steamy love scenes. What is not to like about that? Even though Elina and Celyn are the main focus, the secondary characters provide interesting twists to this enjoyable story. I would definitely recommend it.
View all my reviews