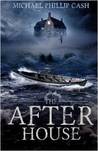 The After House
by
Michael Phillip Cash
My rating:
5 of 5 stars
I received this from NetGalley in exchange for an honest review.
Ghost stories are not my usual read, but the premise interested me. I am so glad I gave it a try.
The After House
is so much more than a ghost story.
Michael Phillip Cash
was able to combine the paranormal (ghost) with thriller, suspense, contemporary romance and historical fiction into a well blended wonderfully delightful story.
Remy Galway is ready to start a new life with her daughter Olivia after a messy divorce. She has found this quaint 300 year old cottage in historic Cold Spring Harbor, Long Island. Cold Spring Harbor was a whaling community, and the cottage was originally owned by Captain Eli, who was a captain on one of the whaling ships. Mysterious things start happening in the house and to Remy. Is someone trying to harm Remy?
The author has created an interesting cast of characters that blend both the past and the present seamlessly. The historical elements give the reader not only the backstory of the characters, but of the community in which they live. Remy made the wrong choice in husbands, but she is a good mother. She is trying to make a better life for herself and Olivia. Will the past come back to haunt her? This story completely captivated me, and I would definitely recommend it.
View all my reviews