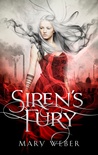 Siren's Fury
by
Mary Weber
My rating:
5 of 5 stars
After I finished reading
Storm Siren
by
Mary Weber
, I knew I wanted to read the next book in the series. Thankfully NetGalley had
Siren's Fury
, and I was able to snag a copy. I remember the devastation I felt at the end of the first book. Reliving that was rough since
Siren's Fury
picks up where the first book left off, but it is well worth the read.
Nym may have saved Faelan, but at what cost? People she loved died and not everyone was happy with her involvement. Nym stows away on an airship bound for Bron with a host of delegates. Among the delegates brokering peace with Bron are Rasha, Nym's friend, and the questionable Lord Myles. Myles has his own agenda and wants to use Nym to accomplish it. Will Nym succumb to Myles's influence? Sometimes you have to pick the lesser of two evils to save the world. Will Nym make the right choice?
Nym has been a slave most of her life. She has lived with abilities that most people, including herself, see as a curse. Nym has struggled with the guilt of the deaths she caused due to her abilities. Can she learn to embrace her abilities and use them for good or will her new power change her? I have been on the edge of my seat from the very first page. What an emotional roller coaster! I completely enjoyed this read and look forward to finding out what happens next.
View all my reviews